Education is THE tool to overcome FEAR!
This is the beginning of a
4 part series

designed to help families survive and THRIVE in "THE NEW NORMAL" Pandemic or No Pandemic...CHANGE is here!

Part 1: CHEAT and find "EDUtainment" (Designed to help parents)

Part 2: Homeschooling for Emotional Intelligence (Designed to help kids and parents focus on what we CAN teach)

Part 3: EMPATHY training for staff (Designed to help schools, teachers and administration)

Part 4: CARE for KIDS is CSR (Designed to help companies and employees work better)

I have designed these posts to help families and schools with solutions because the sooner we ALL adapt to constant changes, the better off children will be! If we don't adjust for kids, we ARE a selfish world. The problems and discomfort will continue to arise until we allow ourselves to transition. OUR modern-day education prepares students to be "ready for anything", but ADULTS (parents, teachers, workers, companies and schools) are ignoring the new reality.

*** BONUS: At the END of the post we have an "EDUtainment activity for the family-Download our FREE Coronavirus Escape Room)***

Let's see if these tools can make times of FEAR easier, so that online camps and virtual programs are FUN for everyone...because they ARE here to stay!
Jill's 3 T.I.P.S. to Homeschooling for Fun:
You need to CHEAT - Camp Quarantine to survive

"EDUtain" kids while you figure this out

Find an online community for support
"I call it EDUtainment...that saves lives!" -Tiffany, London Finance Mom
Tiffany is an Executive in finance, based in London, UK and the newest member of the homeschooling community.
Unschooling, as those of us in the "know" like to call it!
No...we aren't hippies and misfits! Most of us simply believe that traditional education is no longer of use for the needs of the 21st century.
However, Tiffany is homeschooling...NOT by choice...
Without warning, UK schools close indefinitely!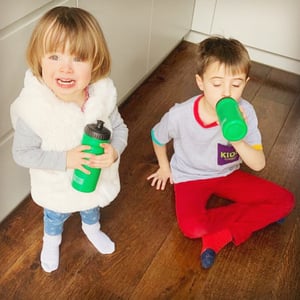 BUT by force!
(Tiffany's kids before Camp Quarantine)
Tales of Tiffany...
Tiffany already had every reason in the world to HATE COVID-19:

Neither she (U.S.A.) or her husband (Spain) have family close by so they are alone in London

All work travel has stopped meaning that normally constant meetings worldwide, has to be done on Zoom, from her son's bedroom, which is a slight adjustment and not free from unexpected interruptions (out of respect for Rafa, we will NOT show the screenshot)
The world economy has just been handed a tornado, making everyone worry about job security and investments
Her aging parents in the U.S., from

that

generation,

Baby Boomers, continue to live as if there is no tomorrow
And then her kids were sent home for their learning! She thought she "managed" that work-life balance before. Tiffany, like most parents,"sink or swim" learned how to juggle without the tutorial that we give adults in our team building courses at WORK FOR FUN.
Watch Tiffany's interview about how life in Quarantine and Remote Working did not balance:
Highlights from her Interview:
She needs to focus on work and it's impossible with a toddler and a 7 year old (who brought home 7 kilos of worksheets as "homeschool")

She has limited household management skills and her nanny was unable to come to work

Her children were lonely, bored and acting out
Googling for support online and remote learning options, none of the programs solved her problem (she needed time to think and work without interruptions)
Camp Quarantine gave the family routines, caring teachers, friends and socialization, and SCIENCE experiments
Sometimes we ALL "Just Need a Minute"!
The idea of Camp Quarantine got it's start in my own "just need a minute" moment! As an educator, mother and business owner, I was having a problem keeping it all together. In theory, I know what I am doing:
I own 2 American accredited schools which are U.S.A. registered HOMESCHOOLS
But within 24 hours I had to kick EVERYONE out of our schools, bring my own kid's to homeschool and worry about 18 amazing women...
AND then check my husband into the hospital thanks to COVID-19 (IT HAPPENS TO THE BEST OF US)!
CLICK to see WHY

Camp Quarantine (4.5 hours/day, 5-12 year olds)

and

Virtual Preschool (3 hours/day, 1-4 year olds)

were the best options for this REMOTE WORKING family's needs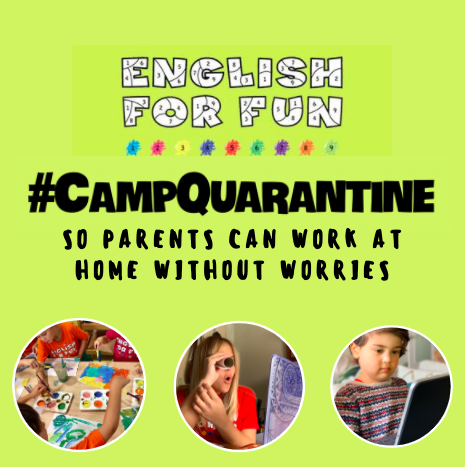 Simplify
life with "EDUtainment"
The idea is that Camp Quarantine helps parents get their "stuff" together!
If someone can help parents breathe while they figure out how to remote work, with the family in the house 24/7, and how to manage a household, than parents can creatively manage the looming FEAR about everything!
At English for Fun, we know that parents are NOT going to be able to Homeschool because it was too sudden. If we can make sure that kids feel respected and safe, then we feel better as educators!
Everyone needs routines

and
occupying time with education IS better parenting
Virtual Camp Quarantine helps parents feel better. It's about the socialization, the routines, the proper discipline habits and FUN that is involved in learning. Does homeschool really have to be in the form of sit down lessons with me and micromanaging their google classrooms?
It IS better if our children are not learning from ANOTHER Youtube Influencer video or a video game. IF they are in an online classroom, we know that they are paying attention to others and interacting with a teacher guiding them. Click here to see a demo class and the schedule:

We call it Socially Distancing at home for at least 4 hours!
I wish I could take the credit for EVERYTHING! I fell into this strategy, thanks to our amazing team of educators! While preparing ALL of our programs for online school (in less than 24h), the demo classes gave me the Camp Quarantine idea! My own children (10 and 12 years old) attended a class to film for the public.
We were 10 FEARful days into quarantine and I had not slept or stopped worrying at all!
It was the first time since we were on lockdown that I felt safe! Seeing my kids engage with other kids, watching the fun activities the teachers lead, seeing my kids look HAPPY and NOT WORRIED for the first time in 2 weeks made me start to cry!
Every time I talk about this with our teachers, I get emotional, because they saved me from the spiral and I actually felt hopeful. They showed the children that they care and that gave me "just a minute" to breathe! I knew that with English for Fun, my kids will be OK.


We have several activities that are included in Virtual Camp Quarantine. They can also be purchased separately. These are done in small groups online:
S.T.E.A.M.M. (Science, Technology, Engineering, Art, Math, Music) for 2-12 year olds (1-2 hours a week)

Virtual Preschool for 0-4 year olds (3 hours a day) which may require more parental guidance based on previous schooling experience
Virtual Camp (4-12 year olds, 4.5 hours a day)
Yoga for Fun (30 minute family classes, daily)
Parenting for Fun Activities throughout the week (i.e. Yoga Sculpt to exercise and empower us on Instagram and Zoom, Weekly thematic dances to tire children out for the weekend, coaching sessions about parenting issues, S.T.E.A.M.M. sessions to DIY at home, etc.)
(Tiffany's Kids After Camp Quarantine)
"Self-care cannot happen when we are FEARful and over-stimulated as parents. Taking a minute to figure this out is the KEY surviving "The NEW Normal"!" - Jill Stribling, English for Fun
Want an English for Fun Activity to help get your through another looooong weekend? Sign up here to get our Coronavirus Escape Room: